Theodoor (Theodore) Rombouts)

b.1597, Antwerpen, d. 1637, Antwerpen)


Allegory of the Five Senses

Oil on canvas, 207 x 288 cm
Museum voor Schone Kunsten, Ghent
Art-lovers in the 16th and 17th centuries were very fond of emblematic paintings, although the content of a work of art often served merely as a pretext for a display of painterly ingenuity. The Allegory of the Five Senses by Theodore Rombouts fits this pattern perfectly. From left to right, sight, hearing, touch, taste and smell are represented by figures and attributes set in a lively and colourful composition. The painting was commissioned by Bishop Anton Triest, a well-known patron of the arts in Ghent.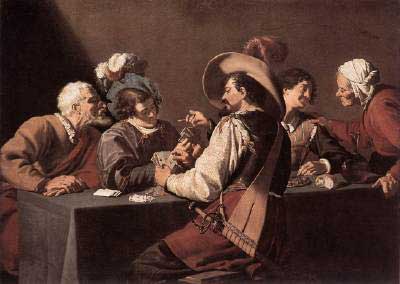 The Card Players 1

Oil on canvas, 152 x 206 cm
Koninklijk Museum voor Schone Kunsten, Antwerp

The ' Card Players' is a genre painting, depicting as it does a jolly scene from everyday life probably with a moralising undertone. The painting is large in format, realistic in conception and traditional in style, and its subject is portrayed in sober and monumental fashion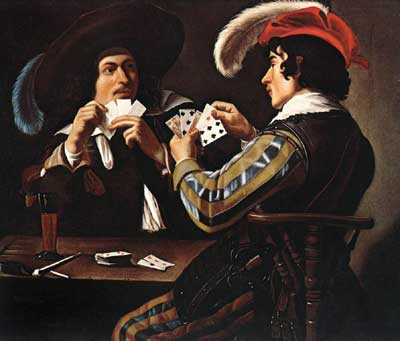 The Card Players 2

Oil on canvas
Residenzgalerie, Salzburg


Biography

Flemish painter, mainly of religious and genre scenes. In his native Antwerp he was a pupil of Janssens, an Italianate painter of merit, then from about 1616 to about 1625 he was in Italy. There his work became strongly Caravaggesque and he established himself as one of the leading Flemish exponents of the style. Later, he fell under the all-pervasive influence of Rubens and his work became much lighter in tonality.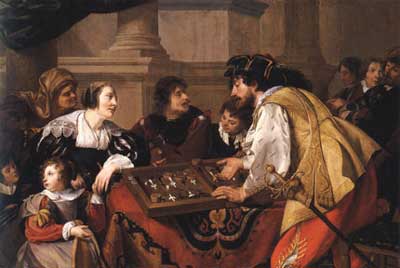 The Backgammon Players


Oil on canvas (160.5 x 234.8 cm)




North Carolina Museum of Art, Raleigh The players and spectators are not what they seem. Although the richly dressed nobleman and his warrior friend would seem to be in control of the situation, the open gaze and bold expression on the face of the woman player suggests otherwise. Moreover, the old woman behind her is neither chaperone nor servant, but more likely procuress, a common enough figure in Dutch and Flemish genre painting of that time. More than backgammon is being played and the gentleman has a lot to lose. At the lower left, two children, a young girl with a face wiser than her years and a young boy intrigued beyond his years, enact the drama in miniature. Meanwhile, in the background, to the nobleman's right, two kibitizers discuss the merits of the game, perhaps even placing a side wager. And finally, almost unnoticed in the shadows, is a tenth figure, in profile. With his downcast eyes and meditative posture, his heavy mood and glum demeanor, he is the only one seemingly ignoring the game. Perhaps he plays the role of the artist-observer, meditating, even as he paints, on the ultimate game where skill is likewise prized but, in the end, is also often no match for chance.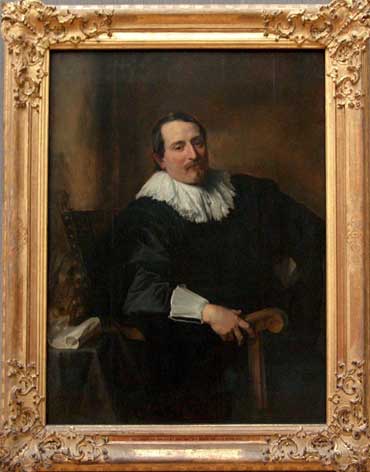 Peinture flamande - Ecoles du Nord
Peinture (Portrait)
Date : vers 1632

Artiste : Antoine van Dyck (Antoon van Dyck)

Modèle : Theodoor Rombouts